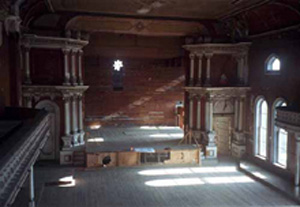 Interior of Performance Space Before Renovation
Sharing one side of Sidney, Ohio's, central square with the historic Shelby County Courthouse and a Louis Sullivan bank building, the 'Monumental Building' once included an opera house, but had been unoccupied for years, and had suffered considerable decay in its interior spaces. The two-story high performance space is being renovated to become the Municipal Courtroom, while its clerk's, probation, prosecutor's, and other spaces will be housed in the remainder of the building.
SERVICES: As facility planning consultant to the architects, visited and toured the existing court spaces and the renovation project, meeting with key persons in all departments. Reviewed the initial schematic design and suggested circulation improvements, a concept for converting the performance space, and a set of space arrangements and locations throughout the building. Offered a security plan with a series of recommendations about aspects of the design concept and court operations plan.
DATE: 1998
REFERENCE: Hon. Donald G. Luce, Municipal Court Judge, Sidney City Hall, Sidney, Ohio, 45365