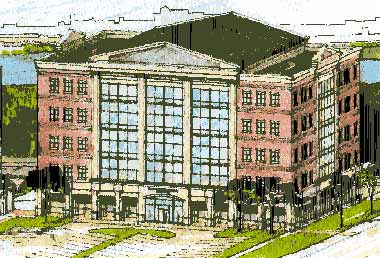 Rendering of proposed Jefferson Parish District Attorney's Office
The District Attorney's Office had been completed and occupied well before Hurricane Katrina. Facing New Orleans from the south side of the Mississippi only some 25 feet from the levee, and despite the widespread devastation throughout New Orleans and Jefferson Parish, the building escaped structural damage. The north, river-facing side, lost its flashing and several penthouse panels, but overall the building interior suffered mostly from water damage and was occupied by staff members during the emergency.
The District Attorney of Jefferson Parish is funding the design and construction of a five-story, 76,000 square foot office building on the government center site. The growing department of about 250 attorneys and support staff, the second largest in the state, with limited time and experience to monitor the project, asked LSC to help them realize the design goals, by consulting on:
interior and exterior design issues;

security: technology, personnel, access control, and procedures;

site needs and constraints: displaced parking, access for vehicular traffic, and interactions with three other major construction projects on the same site;

and the proximity of the proposed location to the levy;
SERVICES: Evaluated the current office space, anticipated staff growth, and changes in office procedures. Suggested methods to fit the architectural program to the budget and a strategy for avoiding future problems. Continued to meet periodically with the department's leadership and the architect's staff and to review schematic, design development, and construction documents; attend project review meetings; and consult on design and budget issues.
DATE: 1998 - 2001
REFERENCE: John J. Molaison, Jr., Executive Assistant District Attorney, Courthouse Annex, Gretna, LA 70053, Tel. 504 368 1020
RESPONSIBILITIES: Provided the services as consultant to District Attorney Paul Connick, Jr.